Facial Aesthetic Surgery LLC (T. William Evans, D.D.S., M.D., F.A.C.S.) has given up its office/surgicenter after 40 years. Grant Medical Center recently constructed a new, state-of-the-art surgery facility, the Grant Surgical & Heart Center. We now perform all of our surgery in this new facility.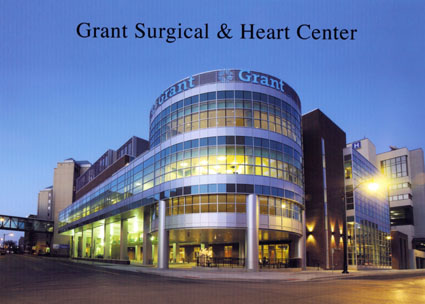 We prefer a general anesthetic for most procedures. We believe this is the safest anesthesia to use for facial aesthetic surgery procedures. Grant Surgical & Heart Center provides a board certified anesthesiologist to provide the general anesthesia for our surgical procedures. The September 2013 issue of Consumer Reports gave the Grant Surgical & Heart Center the highest rating for
Surgery Safety
.
We have a long term arrangement with the Sheraton at Capitol Square (previously Hyatt) to accommodate our out-of-town patients (25% of our patients) or any patient who has multiple procedures performed. Often we recommend that our Registered Nurse stay in an adjoining / connected room for the first night after surgery, if multiple procedures have been performed. There is no charge for the nurse's time. The Sheraton is 2 blocks from the Grant Surgical & Heart Center.
After giving up our office/surgical center, we have been seeing our patients in a suite at the Sheraton at Capital Square (SUITE 2102). Our patients have given us very positive feedback regarding this arrangement. Valet parking is free.