Dr. Evans performs the full scope of Facial Aesthetic Surgery. Our goal is to achieve a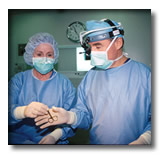 consistent, predictable, stable, natural, attractive, youthful appearance to the face.
Consistent – goal is achieved in every patient utilizing evidence based, scientifically proven, facial aesthetic surgery procedures
Predictable – experience enables us to accurately predict the outcome of the surgery
Stable – a long-lasting result is mandatory and requires special techniques
Natural – the "surgical look" is unacceptable and preventing this again requires special techniques – Dr. Evans often states: "I would be devastated if even another facial plastic surgeon could detect that one of our patients has had facial aesthetic surgery."
Attractive – an improved appearance that is in proportion to the amount of surgery performed
Youthful – if desired, at least 10 years of rejuvenation is the goal
Our Maxillofacial and Facial Aesthetic Surgery Team practices state-of-the-art surgery. With our extensive facial surgery experience and the capability to utilize newer techniques, many of which we have developed, this goal is achievable.
We have the ability to improve (change) and/or restore (rejuvenate) the appearance of the face and neck. Improvement of the face will change the structure of the face and change its appearance (Maxillofacial Surgery). Restoration or rejuvenation of the face and neck may make the face and neck appear as it did 10-15 years ago (Facial Aesthetic Surgery). In many cases, our patients elect to both improve and restore their appearance. Some patients desire a dramatic change to their face; others just want a subtle improvement.
To obtain the maximum facial balance and harmony, we improve or restore a face and neck similar to the way one builds or rebuilds a building. A "foundation" is first constructed, then the "siding" is placed, and last the "paint" is applied.
Maxillofacial Surgery – Build the "foundation" first. An attractive, youthful face has an appropriate foundation (bone and cartilage). This is accomplished, when necessary, with surgery of the bones of the face (orthognathic surgery), facial implants (cheeks or chin), nose, or ear surgery.
Facial Aesthetic Surgery – Next the "siding" is addressed. If the foundation is adequate, then the "siding" can be placed in the appropriate position. The "siding" of the face and neck is the tissue beneath the skin, even though it might appear to be a skin problem. This tissue is surgically relocated with either a browlift, facelift or necklift, or all three procedures simultaneously. Appropriate upper and lower eyelid surgery is also "siding" surgery.
Skin Procedures – Last, the "paint" is removed and reapplied. Treatment of the skin is very important in the treatment plan to produce an attractive, youthful face. Often this is the only treatment we perform for patients. Treatment of the skin is dictated by the amount of sun damage, discoloration, and wrinkles. The amount of skin damage determines whether we recommend a mild skin program, an aggressive skin program, chemical peels or CO2 laser skin resurfacing.
Our practice mission is to improve the quality of life for our patients. We do this without cutting corners in any way. We use only the best equipment and supplies without regard to expense. Our staff is composed of only well-educated, experienced professionals who take an active part in all aspects of our practice.
THINGS YOU SHOULD KNOW ABOUT SELECTING A FACIAL AESTHETIC SURGEON
The first question Dr. Evans is often asked by patients is "Are you a plastic surgeon?" Dr. Evans is not a Plastic Surgeon. He is a Board Certified Oral and Maxillofacial Surgeon and a Board Certified Cosmetic Surgeon (Facial) who limited his practice in 1978 to only surgery of the face and neck. Even before 1978, his practice was mostly reconstructive and aesthetic surgery of the face. Since 1963, except for his past experience in Anesthesiology, Emergency Medicine and Critical Care Medicine, his residency training and his practice have been exclusively concentrated to the face and neck.A Plastic Surgeon is a specialist in Plastic and Reconstructive Surgery. A Plastic Surgeon's training typically involves 3 years of general surgery (mostly intra-abdominal surgery) and 2 years of Plastic Surgery which consists of training in mostly non-cosmetic procedures. The cosmetic techniques they do learn typically are breast, abdominal and body liposuction procedures. Facial Aesthetic Surgery is a very minor part of their training. Less than 5% of the typical Plastic Surgeon's practice involves Facial Plastic Surgery.Plastic Surgery organizations have spent millions of dollars trying to convince the public to go to "a Board Certified Plastic Surgeon" for cosmetic surgery. Although there are some excellent facial cosmetic "Plastic Surgeons", the majority of Plastic Surgeons have had very little experience with facial aesthetic surgery.
Dr. Evans advises his patients to thoroughly evaluate their prospective facial aesthetic surgeon's training and experience in performing facial surgery. The surgeon should be board certified and should be actively involved in continuing medical education. Dr. Evans always suggests that his patients obtain opinions from at least one other surgeon before making a final decision.
Facial surgery experience and uncompromising attention to detail distinguishes the best facial aesthetic surgeons.